shotgun.drwuro.com
4-Player Death Match
for your Commodore C64/C128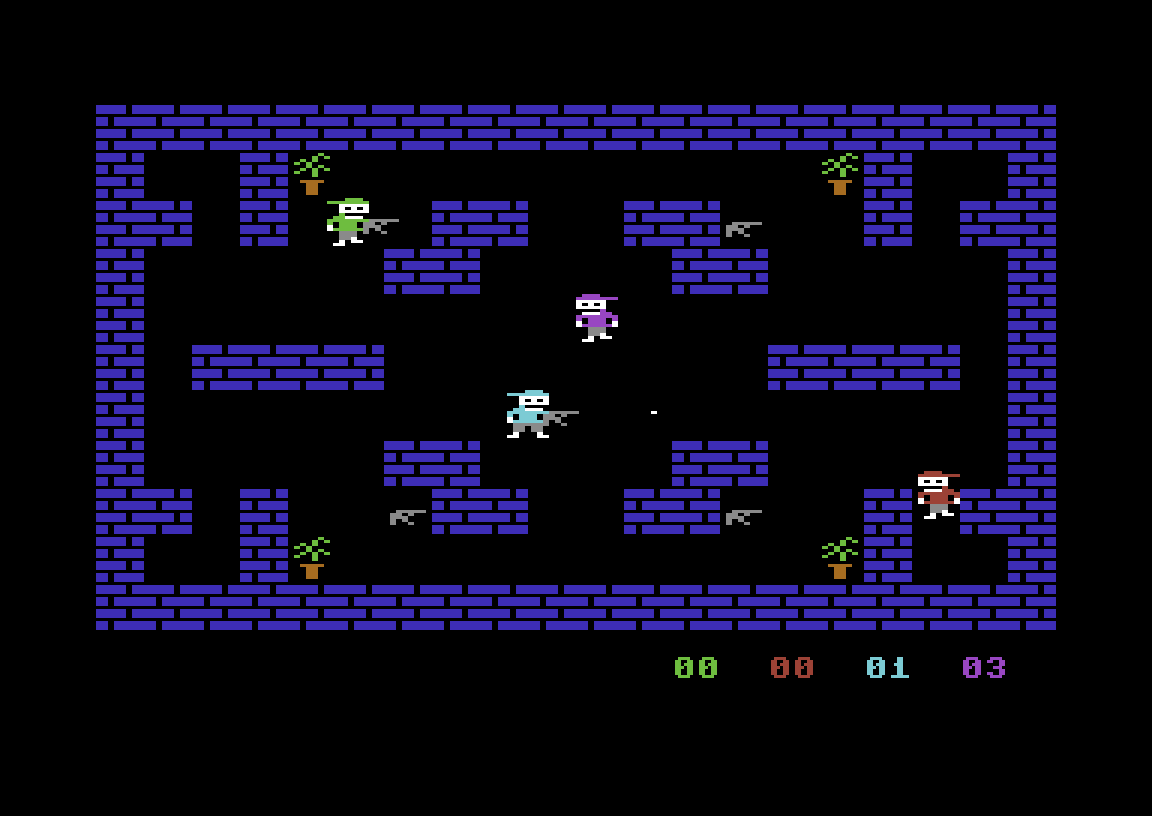 ABOUT THE GAME
Enter the arena with your friends, grab a gun, and shoot the hell out of them!
This great action game supports the "Classical Games 4-Player Interface", which you can buy online for little money, or you can even build one by yourself. More information about this device can be found here.
Alternatively, since version 1.1 you can also use the "SuperPad64 adapter" and play the game using Super NES controllers. More information about this device can be found here.
This game is freeware - copy it to all your friends and play it at every C64 gaming party!
However, if you enjoy playing it, you are very welcome to donate or buy me a beer if you meet me somewhere in real-life ;-)

paypal@drwuro.com


Or, if you would like to have something nice for your collection, have a look at the Boxed Version!
DOWNLOAD
Note: This is a game for the Commodore C64 home computer. If you have no such machine or if you have no possibility to transfer .PRG or .D64 files to a real C64, you can use an Emulator to play it on your PC/Mac, Raspberry Pi, TheC64 Mini/Maxi or similar. Read our article How to play our Commodore 64 games for more information.
current version (1.1):
shotgun-1.1.prg
shotgun-1.1.d64

what's new in version 1.1:
menu is now operated via joystick (port 1) instead of keyboard
music is now fully PAL/NTSC compatible
sound fx routine has been improved
game is now SuperPad64 compatible
x-mas mode is now included as an easter-egg
old versions:
shotgun.prg
shotgun.d64
shotgun-xmas.prg

SCREENSHOTS
X-Mas Edition:
There is also a special holiday-themed version available. This version not only lets you play as Santa Claus characters, it also features two additional color schemes ("icy x-mas" and "cozy x-mas") and an all-new bonus map (Arena H)!
Originally released as a seperate version, it is now included as an easter-egg in the regular game (since version 1.1). Check out the Download section for more info.
BOXED VERSION
If you would like to have a physical copy of the game on 5.25" disk and with a printed manual etc, send a mail to email@drwuro.com. The price of the Boxed Version is 16.90 EUR, shipping is 2.90 for Germany or 3.90 international (as letter).
currently out of stock!
Please note that this game is also available on cartridge, along with the game FROGS and two additional joystick ports - so be sure to check this out, too: 4-Player Games Collection
Contents of the Boxed Version:
Flip Cover (which means you can turn around the cover to choose from two different title pics)
5.25" Diskette
printed Game Manual
3 cool Extras (surprise!)
Here are some nice pics of the Boxed Version:
Note: more recent orders of this box might be shipped with a newer design of the 5.25" Disk sleeve than the one shown on the pictures